Overview
The Time Line is a place where all of the resources for a single chart can be viewed, edited, or deleted. The measurements, notes, session blocks, and conditions will all be displayed in a chronological order
Time Line Example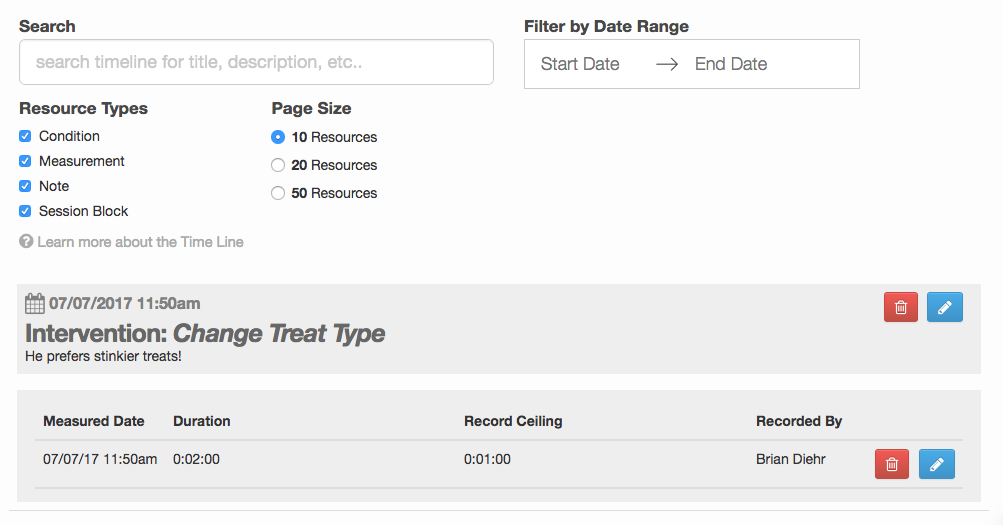 The Time Line can be found in two places,

The first of those, is the Time Line page. This is a specific page which contains only the timeline.
Note: This can be useful because not displaying the chart will increase the speed of the software.
To find the Time Line, click on the 'Time Line' button on the performers 'charts' pages, as shown below:
Navigate to Time Line Page

The Time Line page is also linked to from the 'Chart Viewer' page under 'Short Cuts':
Navigate to Time Line Page via Chart Viewer

Lastly, the Time Line can be found by simply scrolling down below the chart on any chart that is not an FACC chart.
The Time Line provides essential tools for searching through the resources for a chart. The following methods are provided for filtering the resources on the timeline:
Search Term - Only should resources whose title, or description contain a particular word or phrase.
Date Range - Only show resources which fall within a particular date range.
Resource Type - Only show resources of a given type.
These methods are all demonstrated below:
Time Line Filters & Search