A timings chart provides a sequential view of data. The powerful tool for data analysis offers a unique perspective into timings data. Therefore, another level of understanding the pinpoint, and ultimately in making decisions to affect behavior, is at your fingertips.
Overview 
1. How to View a Chart in 'Timings' Mode?

 To view the timings chart, follow the guide below:
Guide to View a Chart in 'Timings' Mode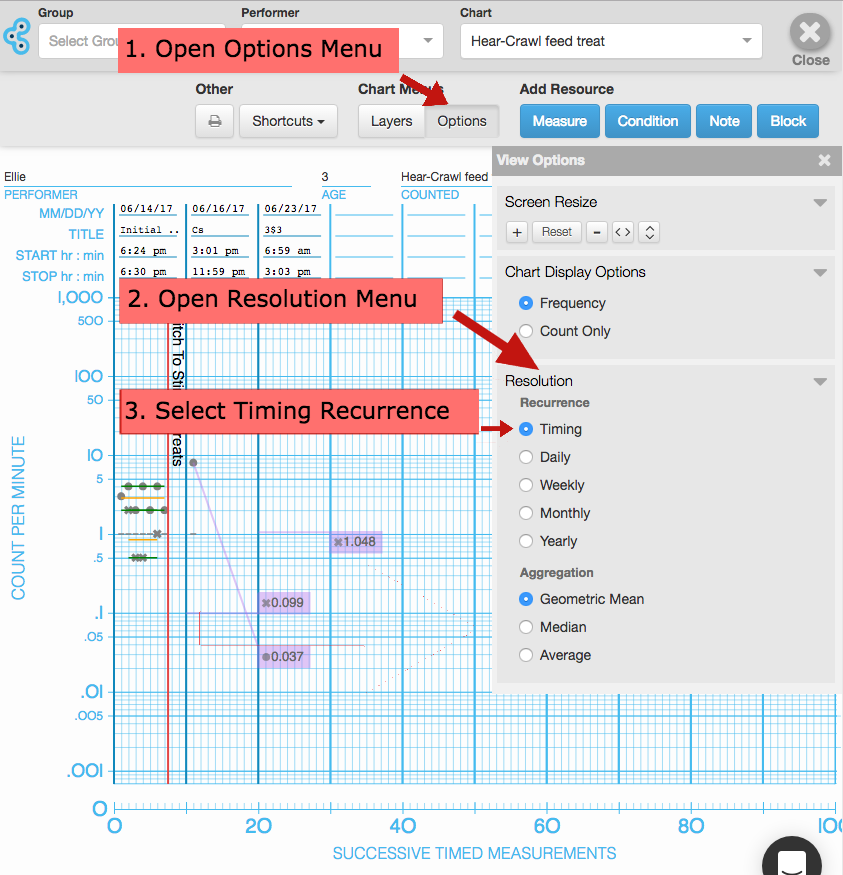 2. What Does it Mean for a Timings Chart to be Sequential?
When we say that a timings chart is sequential, it means that the resources (notes, measurements, session blocks, and conditions) are ordered strictly by their dates, and that each 'resource' is placed on a different position.

Daily/Timing Comparison

ex. A: Daily View of Data, Stacked

ex. B: Timings View of Data
In the above image, we have the same exact data set being displayed in two different views, the daily view showing stacked data points (exhibit A) and Timing view (exhibit B). When we look at the timings recurrence mode, we have a  10 minute session, and can clearly see that near the end of our session, the decel frequency increased, and the accel frequency decreased. That level of analysis is not available when viewing all data points stacked for the day.
Looking at the daily recurrence, we can view all the measurements taken for the day, but we lose any inner day trends. For example, by only looking at the daily chart above, we would not know that the decel frequency sharply increased towards the end of a session - this could be a useful piece of information in making decisions to prevent this pattern from reoccurring.
A session block provides a way for you to differentiate between different sessions held with a performer. This is especially useful if you want to be able to visually differentiate data-recording sessions.
                         Without vs. With Session-Blocks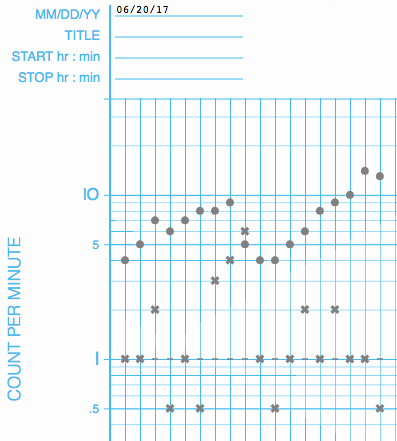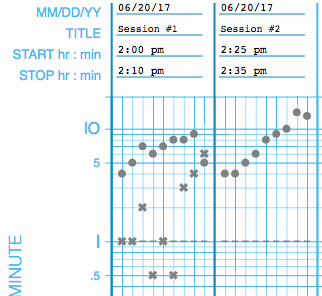 ex. A - Without Session Blocks                     ex. B - With Session Blocks
On the left (exhibit A) we can see multiple sessions of data displayed without corresponding session blocks. On the right (exhibit B), we see the same data, but with two session blocks.
We can clearly see that the inclusion of session blocks helps us better interpret the data in a more accurate manner. Without the session blocks, it's impossible to tell if the performer had regressed mid-session, or if it's the start of a new session.
Read more about Session Blocks here!

Session aims provide a way to assign and keep track of desired outcomes on a per-session basis. Below is an example of an accel frequency session aim.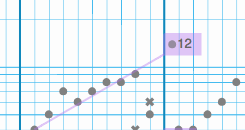 example of an accel freq. session aim
Read more about about session aims here!
5. What Statistics are there for the Timing Chart? 
Timing Chart view provides a limited set of statistics:

  Timing Chart Statistics
Minimum Line (top green line) - Horizontal line at the lowest value in a phase. 

Maximum Line (bottom green line) - Horizontal line at the highest value in a phase

Level Line - (center golden-yellow line) - Horizontal line at an aggregated 'average'. This can be either an arithmetic average, geometric average, or a median (depending on your selected Aggregation option). 

 
6. What is an 'Inner Day' Resource?
An Inner Day resource is a resource which only appears on the Timing chart. This is used in practice to have interventions, annotations, and slices appear on the Timings chart, without having them displayed on the daily, weekly, monthly or yearly view. This is especially useful if you have many conditions in a close period of time which are relevant at a session level, but are not as relevant in a larger scope view.
At the moment, only conditions are able to be set as 'inner day'. Upon editing or creating any type of condition, you will be presented with an advanced options box. When you click the box, you will be shown the option to set 'Inner Day' to your condition (shown below).

                  Option to make an 'Inner Day' Condition.
 Note: Session Blocks are 'inner day' by default.